The transition from long-term to short-term rental properties can bring about many issues. At Gulf Coast BnB Rentals, we are very fortunate to have experienced contractors to ease our mind during this update and renovation process.
Today, we are featuring our leak-proof plumbing company, Downs Plumbing & Gas Co, and the reliable contractors, Hunter and Will, that executed the plumbing updates.
Hunter has been with Downs Plumbing for over 12 years stating that being under the house is much better than working above the house in fields such as roofing. Hunter recruited his brother, Will, to work with the company. They have both been able to gain knowledge through field experience and have been trusted to lead on major projects, such as this one, by the owner of the company, Chad Downs. The brothers have performed many projects in Pensacola and surrounding areas but this is their first BnB property project.
Noting that the pipes were likely original – made of galvanized steel and copper – Hunter is very familiar with the historical homes in the Pensacola area. The brothers began by replacing the pipe to the home from the main line, changing it from a ¾" to 1" pipe, which allows maximum flow to the property. From the main line, individual valve boxes were installed for the four units allowing the ability to pinpoint a problem if one were to arise during a guests stay. This delivers an improved way to gauge water usage, per unit, that will provide the owner of the property a better understanding of the amount used. Will and Hunter also noted the importance of replacing your water heater. In order to provide the four units with an adequate supply of hot water, it is vital to know when the water heater was installed – good quality water heaters typically last 6 to 12 years.
We are very thankful for the work that Hunter and Will, from Downs Plumbing & Gas Co, completed here at the Spring Street home. With an abundance of knowledge and efficient work, these contractors went above and beyond!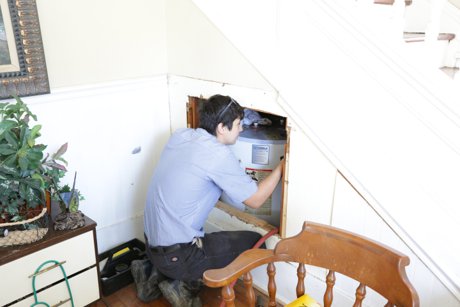 00
0